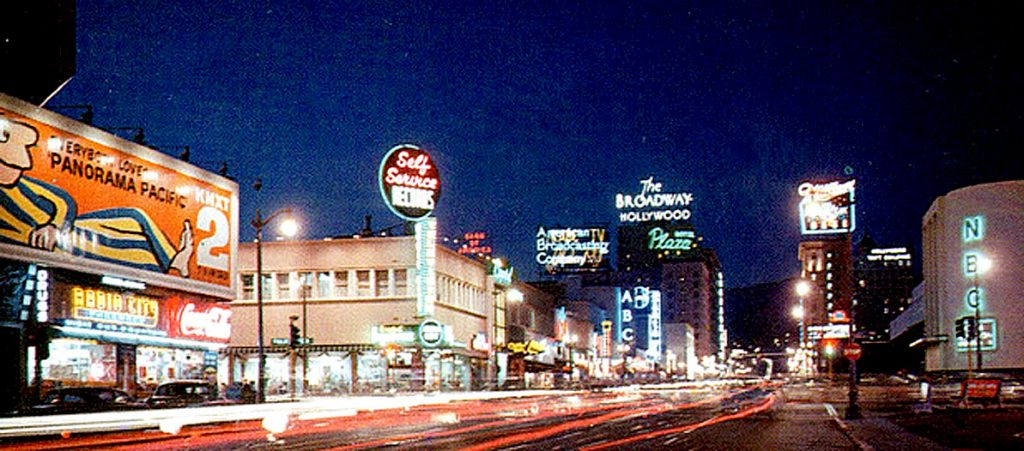 Listen to the live Show Megalopolis At Night (the nightly 11/2 hour KNX Radio Program) as they visit The Potted Pidgeon Restaurant.
1. KNX - Potted Pigeon - 1962

- KNX - Potted Pigeon - 1962
L.A. nightlife in the early 60s. A lot going on and no shortage of restaurants and nightclubs. Along Hollywood Boulevard it was a place to people watch – all over Hollywood and west to Beverly Hills, it was awash with eateries featuring every kind and type of food; most of the Steak House variety, but many of the Supper Club variety, where entertainment went along with dinner.
In the early 1960s, KNX-AM (and FM) was one of the more popular radio stations in L.A., not playing top-40. Their slogan was "curious radio" and entire programs were devoted to on-the-spot coverage of events taking place all over town; interviews with everyone from the magazine seller at the all-night newsstand on Cahuenga to covering movie premiers at Grauman's or the newly opened Cinerama Dome on Sunset.
One such event, was the opening of a restaurant, owned and run by a former gossip columnist who used to host a daily Focus-on-Hollywood program over KNX. George Fisher had been a well-known columnist as well as an interviewer for many years who decided to retire from broadcasting in order to devote all of his time to his first love; cooking.
And so, Megalopolis At Night, the nightly 1/2-hour KNX program with Bob Ferris went to The Potted Pigeon, located at 10323 Santa Monica Blvd, in what was known as New England Village, just west of what became Century City.
It's a slice of L.A. nightlife from 1962 – where people went to eat and where personalities grabbed tables and hung out. Sadly, there are no known photos of the restaurant and no history of how long the restaurant was actually in business for. But the little cluster of cottages known as New England Village is still there, about a half-block east of Beverly Glen. Unlike most of the eateries which gained fame or notoriety, it hasn't succumbed to the wrecking ball yet.
But it's another dive back into the obscure parts of Los Angeles during a time when the town was smoggy but negotiable. It includes interviews with silent film star Francis X. Bushman and other notables.